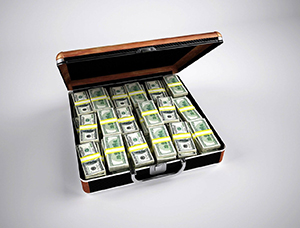 Understanding Lump Sum Pension Buyouts
While it is possible for you to take a lump sum payment, invest it wisely, and benefit from the situation in various ways, it's important to remember that you are fully responsible for making that lump sum last throughout your entire retirement.
A number of corporations today are offering lump-sum payouts in place of monthly pension payments. While the IRS once protected pensioners from making risky moves with their pension plans, these protective policies were recently reconsidered by the Treasury Department. As a result, corporations have been able to go full steam ahead on de-risking schemes that allow for the reduction of liabilities through lump-sum payouts. In some cases, a group annuity from an insurance company is offered to replace the pension plan.1,2
It's a simple strategy. General Motors made headlines in 2012 when it transferred its liability for retiree benefits to Prudential. Before the transfer was official, it offered 42,000 salaried employees the opportunity to accept a lump sum. As a result, while GM reduced its financial risk, retirees shouldered an increased financial risk. Most of the retirees who accepted the lump sum payment did so at great risk to their financial security.2,3
What is a lump sum?
A lump sum is essentially one large payment that pensioners receive in place of monthly payments that they would otherwise get for the rest of their lives.
A lump sum is tantalizing because it's a large amount of money, but according to a study done by the Obama-era Treasury Department, most retirees lose a lot of that lump sum and end up suffering financially as a result. Indeed, these one-time lump sum payments are much lower than what pensioners would receive through their monthly lifetime pension checks. Years ago, the Treasury Department noted these flaws in the de-risking practices of corporations offering lump sum payouts and the government tried to create rules to stop the practice, but the current Treasury Department has removed those protective policies.
3,5
What are the pitfalls of a lump sum pension payout?
There are a number of potential issues to consider before accepting a lump sum payout in place of pension payments.
While it is possible to take a lump sum payment, invest it wisely, and benefit from the situation in various ways, remember that the lump sum must last throughout your entire retirement. A pension offers guaranteed lifetime monthly payments, so that means that with a pension you'll have lifelong guaranteed income without worrying about the volatility of the stock market or the possibility of running your funds dry.
4
Many retirees don't realize that their pension is pre-tax income.
In other words, accepting a lump sum may need to be rolled into an IRA, 401(k), or 403(b) or risk being pushed into a higher tax bracket to suffer a tragically high loss in taxes. Another option is to purchase an annuity to provide an ongoing monthly income stream. When choosing an annuity, look closely at the company's credit ratings and read the contract carefully. Ask questions to make sure you fully understand the terms and conditions of the product you wish to purchase.
4
The decision to accept a lump sum depends on your personal financial situation.
If you have a serious illness and you expect that you don't have much time left, a lump sum could mean an sizeable inheritance for your heirs. Many experts say that even sophisticated investors would be challenged to equal monthly pension payments by investing the lump sum that the company offers, so this is not a decision to make lightly. In order to make the wisest possible decision regarding the lump sum payout question, it would be best to consult with a trusted and impartial financial professional.
1,4
How to Manage a Lump Sum Buyout
Retirees who have accepted a lump sum may want to talk to a trusted financial professional to develop a plan for their benefits.
A lot of experts foresee the possibility that retirees working with lump sums could easily be scammed.
6
Many retirees who accept a lump sum may turn down the opportunity to annuitize through the company's chosen insurance provider and invest individually in an immediate annuity.
This allows them to create a pension-like situation where they'll receive monthly payments. They will want to carefully compare individual annuity plans, paying close attention to rider options and fees. They may want to consult with a trusted financial advisor to create a customized plan tailored to their specific needs.
6,7
References:
1 - morningstar.com/articles/924656/when-do-lump-sum-pension-buyouts-make-sense
2 - marketwatch.com/story/treasury-and-irs-move-backward-by-giving-a-green-light-to-offering-retiree-pension-buyouts-2019-04-11
3 - aarp.org/retirement/planning-for-retirement/info-2019/lump-sum-payments-for-pensions.html
4 - fidelity.com/learning-center/personal-finance/retirement/lump-sum-or-monthly-pension
5 - forbes.com/sites/ryanguina/2019/03/28/should-you-accept-a-pension-buyout
6 - foxbusiness.com/personal-finance/treasury-changes-lump-sum-pension-rules-what-it-means-for-workers-retirees
7- cnbc.com/2019/10/07/is-a-lump-sum-right-for-you-when-companies-like-ge-offer-one.html